Slowing down this summer? Not at Chayn!
Remote trauma support, new staff and gearing for two product launches
Hi everyone! 
My name is Jessica and I'm a (relatively) new Chayn volunteer. Since joining the organization in early March 2020, I've had the chance to help out with Your Story Matters (YSM), one of our most important digital projects, general communications, fundraising work — and now our newsletter! Based in New York City, I've loved getting to interact with other passionate folks from around the world. Chayn's global focus (and makeup) are definitely one of its greatest strengths! 
Updates from Chayn
Since our last newsletter went to press (so to speak), two major milestones occurred: Chayn celebrated its 7th birthday and Hera Hussain, our fearless founder, came on full-time as a paid employee. Each of these events on their own would have been pretty exciting, but together they're almost too good to be true. Our party included current and former volunteers, critical funders and partners, friends and family. We played games, shared our learnings and had an all-around great time. Thanks to everyone who was able to participate! Hera, now a few weeks into her role as full-time Executive Director, has been enthusiastically setting priorities for the next few months. Soon you'll see more events, blogs and product launches! In the meantime, you can read her weekly notes for regular updates. 

YSM, formerly known as "You Are Not Alone" or "YANA", was rebranded as Your Story Matters. For weeks the team brainstormed names that would convey the platform's intention and reassure survivors. After oscillating between different options — some more abstract, others more literal — we settled on Your Story Matters. It's practical (and true!). Plus, who doesn't love a good acronym?  In addition to developing a new name, we also put our NESTA funding to good use, hiring a researcher to help us evaluate resources we sourced to include on the YSM platform. Thanks to her diligent work, we know that the content provided through YSM is reputable and reliable. 

Of course, we weren't able to find content that spoke to all aspects of a survivor's journey after assault. To fill in the gaps, we've been writing three concise pieces of original content, or "notes" that survivors will be able to consult. Each note focuses on a distinct subject: taking care of your body after abuse, making the decision to report (or not) and telling someone what you're going through. Written collectively by our team of volunteers, we're hoping these notes will be ready by the end of August. And as if that weren't enough action on the YSM front, we've also been working on designs for the platform. We can't reveal anything yet, but stay tuned!

Like YSM, Bloom was also recently given a new name. Once known as "The Trauma Resilience Group", this new moniker has a less clinical and more hopeful feel. As a refresher, Bloom is a web-based support group for domestic abuse survivors and anyone experiencing gender-based violence. Run by Chayn volunteers, it aims to recreate the trust, engagement and confidentiality of a physical group setting online. Bloom's content and methods are validated by trauma therapists and leading experts in the field. In June, Bloom wrapped up its first 10-week course, a pilot program that was hugely impactful. In total, 101 individuals participated in the group, 10 of whom were interested in learning more about how to run similar programs using accessible, affordable technology. The sessions were facilitated by a team of 4 volunteers who each gave about 12 hours of time per week. In total, well over 450 hours creating and managing sessions and fostering a sense of community among participants.  We were thrilled to receive some stellar feedback, including this quote from one participant: "The course has been good for me. Firstly, with the lockdown here in the UK it has given me some structure and something to look forward to. Apart  from that, I feel that things that I am denying about my trauma are being confirmed and repeated. I have gone to therapy but I don't always want to talk about the abuse or my ex-partner, so with your programme, I am not doing any talking but you are all giving me information/ guidance/ positivity/ education and coping methods." Based on the success of this pilot, we've been able to secure funding from the National Lottery Community Fund to support additional work. We've launched a second set of Bloom sessions and are currently developing four more programs. Who would have imagined this kind of success?

Our own Nooreen, People Lead, spoke to the Financial Times about the dangers of digital surveillance for survivors. We also contributed to an article in Global Poverty about the gaps in the UK's landmark Domestic Abuse Bill.  

While many of us continue to be on lockdown and in-person events (in many countries) are still not feasible, Chayn has been actively involved in a couple of digital activities. Alongside Women's Aid Leeds and Sky Blue, Dina and Sophie were invited to talk about our work with Sky Group. The session, which focused specifically on domestic violence, gave us an opportunity to discuss Soul Medicine and Little Window, two of our digital projects. Sky Group kindly donated £500 to Chayn in gratitude for our presentation — thank you, Sky Group!

Equally as exciting, Hera and Dina hosted a session at RightsCon on building an open data standard for recording crimes against women and Alyson, Becky, Tiffany and Hera led a session on tools to manage anxiety. You can watch it here. Quick aside: we hosted our session on Demio and are in love with this platform! We've got another one coming up on Tuesday about living with PTSD.

Over the last few months, we've been working with Digital Rights Foundation to map Gender-Based Violence helplines around Pakistan. With rates of domestic violence soaring around the globe, this work is more important than ever. Lockdown hasn't kept us from fostering this important partnership. We're excited to share more with you in our next newsletter. 

We launched Bloom and you loved it. We've had more than 130 bookings in just one week and they've been from all around the world.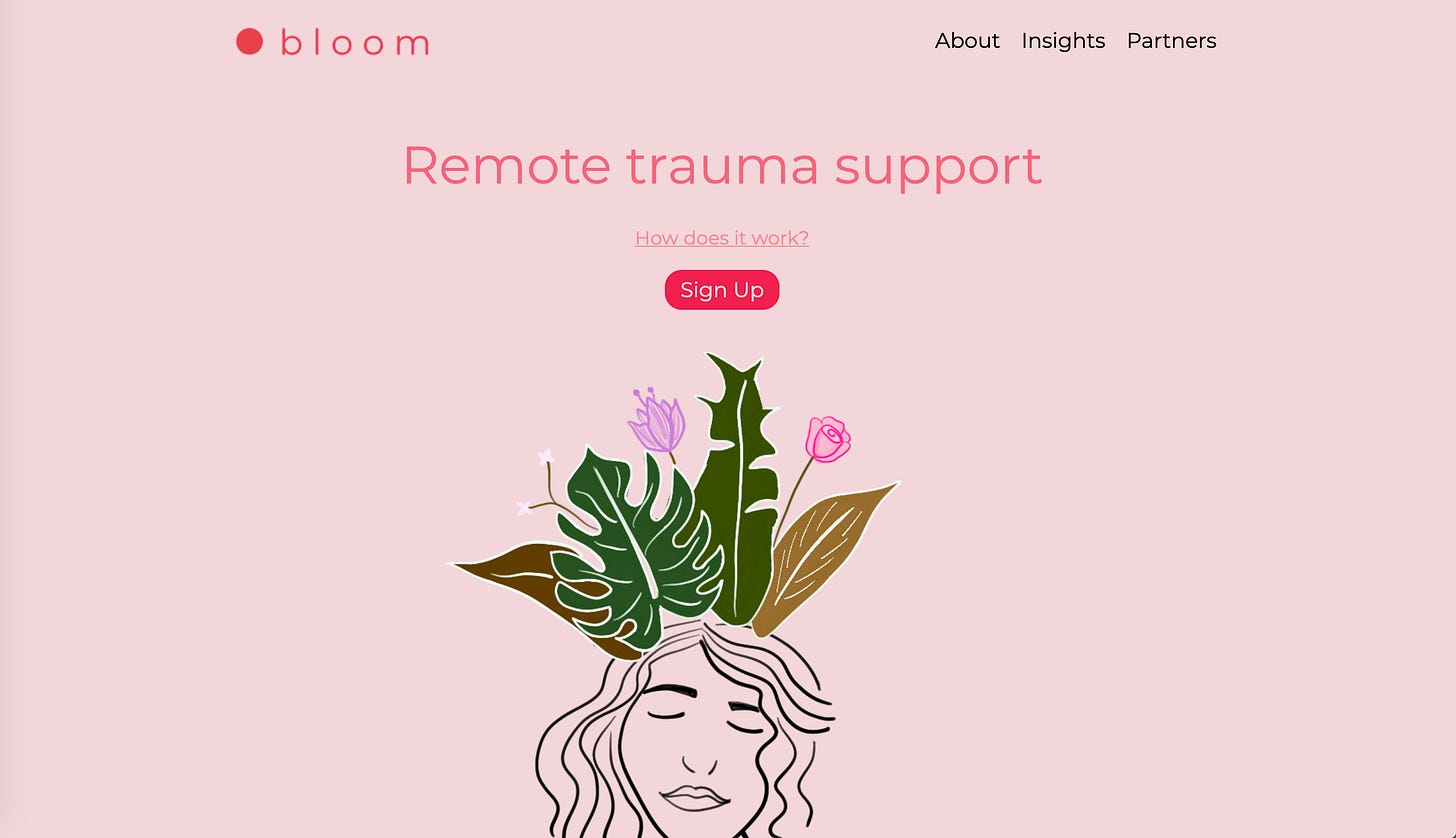 The lingerie company, Bluebella, is donating all profits from their face masks to us! Looking for a stylish mask? Consider buying it from here, especially if you love lace.
Finally, Rosie — a loyal volunteer who has been guiding different aspects of Chayn for nearly 2.5 years — is taking a break. Rosie has been a rock for us, seeing through the delicate time of incorporating as a social enterprise and getting enough funding for us to start hiring staff. Rosie, you'll be deeply missed by the whole Chayn family and we wish you are able to walk to the sunny beach in Greece with an ice-cream cone in your hand whenever you want. We can't wait to have you back soon! 
Challenges
Our challenges in the last few months have mostly been growing pains. With Hera coming on full-time and new funding, we've got more bandwidth and resources to create platforms and produce content. But that also means that our projects are becoming more complex and difficult to manage. It's a good problem to have — and one we're equipped to handle — but we've got a lot to learn about juggling content production, product development and UX.

We've also been having a harder time than expected ensuring that YSM remains accessible to a global audience. While specific, in-person resources aren't universally available, certain content — like what happens to the brain after trauma, or how to tell a loved one about your assault — doesn't necessarily have to be country or culture-specific. We've been getting better at keeping our tone and focus appropriately international, but it's definitely a work in progress. 
What we are reading and watching (and doing!)
Reading: Feminism Interrupted by Lola Olufemi. We are loving this relatable, intersectional and contemporary presentation to feminism. We've also been rereading Rupi Kaur's Milk and Honey. Her poems about trauma, love, breaking up and recovery break and rebuild our heart, over and over again. 

Watching: Mrs. America. This mini-series follows the famously anti-feminist Phyllis Schlafly as she crusades against the passage of the Equal Rights Amendment, legislation which was intended to ensure equal rights for all Americans regardless of their sex. Interestingly, this series has caused quite a stir. Gloria Steinem has called it "ridiculous" and says it mischaracterized a lot of what is shown. What do you think?

What we're doing: We're learning about each other's unusual food preferences. In our most recent Chayn Day call, we learned that Beatriz loves mashed green bananas with salty cheese and butter (a traditional meal from the Columbian coast) and Connor loves to eat her chilli with… a cinnamon bun? To each her own!
Call for help
We're always looking for new volunteers and right now, we're also looking for some paid talent. Please check out these job postings and pass them along to anyone who might be interested. All applicants can submit their CV and cover letter to team at chayn dot co.
Operations Manager. 21 hrs/week. £25k. One-year contract. Made possible through a generous grant from Joffe Trust). Deadline: 20 August 2020.

Communications Consultant. 10 days. £2200. This opportunity to help us launch two projects in the next few months will be relatively short (but intense). Deadline: 24 August 2020.

Sexual violence legal expert in the UK. We are looking for a legal expert to help us review and modify content for distribution on YSM and our other platforms. Deadline: 24 August 2020.